Almond Aphrodisiacs for Valentine's Day
Posted on : February 8th, 2018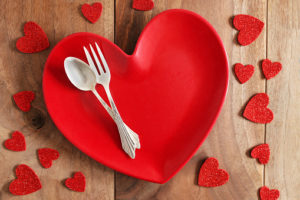 Since Valentine's Day is coming, love is on my mind! Did you know that in ancient times almonds were believed to be an aphrodisiac? Sugared or Chocolate Almonds are used as wedding favors not just because they're so tasty. In ancient Greece, newlyweds were gifted with almonds so they'd be blessed with children. In the Bible Samson courted Delilah with almond blossoms because, supposedly, the smell of almonds and almond flowers was thought to be irresistible. In fact, almond perfume was once linked to the goddess of love, Aphrodite.  In India the bride gives the bridegroom a mixture of milk and almonds to ensure they have a particularly enjoyable wedding night. And even today, an Indian man or woman can let someone know they find them attractive by discreetly passing them an almond.
Well, that almond better be wrapped in chocolate to attract me! But I did find out that some people consider almond paste to be an aphrodisiac food and that is, actually, one of my favorite food ingredients. So I thought I'd share a recipe for making your own almond paste today and some ideas for how to use it.
Homemade Almond Paste
1 1/2 cups natural almonds
1 1/2 cups confectioner's sugar
1 egg white
1 teaspoon almond extract
1. Finely grind the almonds in a food processor for about 1 minute.
2. Add the rest of the ingredients and process for another minute or two, until well combined.
3. Dust a surface with confectioner's sugar and put the almond mixture on top. Then form the mixture into a log shape so it can be sliced for use later.
4. Wrap the almond paste in plastic wrap and chill in the refrigerator until firm (about an hour). It can be stored there until you're ready to use it for up to a week.
Okay, so now what?
If you're like me, you've already eaten some with a spoon before it was even put in the refrigerator to firm up! But you could also make one of these delectable delights:
Almond Squares:  A cookie for almond lovers!
Italian Almond Cookies: laced with chocolate and gluten free!
Almond Cake: Serve it with fruit for an elegant-looking dessert
French Pear and Almond Tart: Pears and almonds are one of my very favorite combinations!
---
Maisie Jane's California Sunshine Products, Inc. was founded on strong beliefs and passion for offering unique, flavorful, top-quality, nut products. We strongly believe in earth-friendly practices that start on our family-owned and operated orchards. We use organic farming practices and continue in the process by using all-natural ingredients with no preservatives or GMOs. We believe in honest, friendly and helpful customer relations at all levels. We take pride in every task, every day, with every person.