50% Off Sale on Chocolate Hazelnut Butter!!!
Posted on : July 3rd, 2019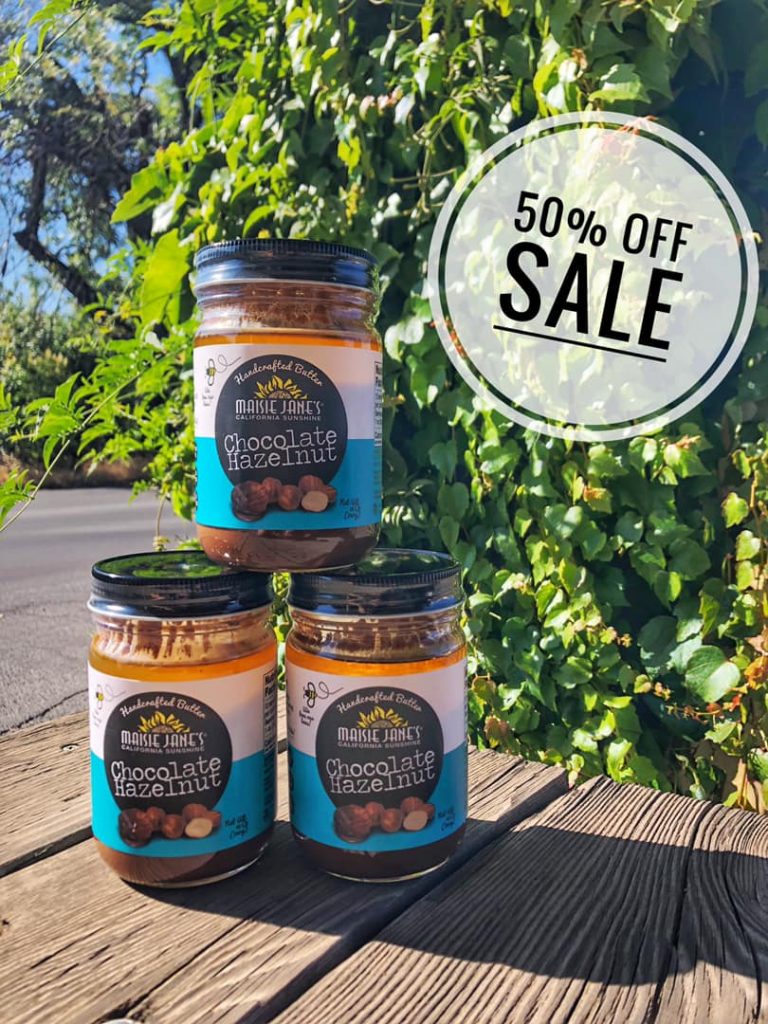 Don't miss this opportunity! Our fabulously delicious Chocolate Hazelnut Butter is 50% off while supplies last. The idea behind this delicious treat was to have the hazelnuts shine and not be as sweet as similar chocolate nut butter spreads. You'll still be tempted to dig in and eat it with a spoon but it contains far less sugar than the competing brands and no added emulsifiers or preservatives. It's great drizzled on ice cream, used as a dip for fruit, spread on your favorite bread with plate of strawberries and cheese.
Need more inspiration? Try these ideas:
Chocolate Hazelnut Banana French Toast
Spread thick slices of French bread with cream cheese and Chocolate Hazelnut Butter. Top with sliced bananas and a sprinkling of brown sugar (if desired). Add another slice of bread on top to make sandwiches. In a bowl mix together eggs (1 per sandwich), milk (about 1/4 cup per sandwich), cinnamon and vanilla (1/2 tsp per sandwich each). Heat butter in a skillet. Dip the sandwiches in the egg mixture and let it soak for about 30 seconds per side. Then toast in the skillet about 4-5 minutes per side until golden brown. DELICIOUS!
Chocolate Hazelnut Cookies
Just four ingredients: 1 cup Chocolate Hazelnut Butter, 2/3 cup all-purpose flour, 1 large egg (at room temperature), and 1/2 cup chopped nuts (unsalted). Preheat your oven to 350°. Mix all the ingredients except the chopped nuts until well-blended. Add in the nuts. Drop by tablespoonfuls 2 in. apart onto ungreased baking sheets. Bake until set, about 8-10 minutes. Remove from pans to wire racks to cool. Devour at will!
Chocolate Hazelnut Mug Cake
Cake for one! In a mug! In 60 seconds! Sounds insane. How could this be any good? To be honest, it doesn't look that great—so add a dollop of whipped cream or vanilla ice cream on top. But if you're hankering for something quick and easy that's weirdly decadent, go ahead! It's a fun little treat.
Four ingredients: 1/4 cup whole or 2% milk, 1/4 cup all-purpose flour, 1/4 teaspoon baking powder, 1/4 cup Chocolate Hazelnut Butter. Mix the first 3 ingredients together in a 12-ounce or larger microwave-safe mug. Whisk until smooth. Then add the nut butter and stir until well-blended without any lumps. Microwave on high for 60 seconds. Depending on your microwave, the cake should easily pull away from the sides and the top should look set and dry and spring back when gently touched. If it's not ready yet, try 15-second microwave bursts until it does (maybe 30, at most 60 seconds more). Add any toppings desired and eat!
---
Maisie Jane's California Sunshine Products, Inc. was founded on strong beliefs and passion for offering unique, flavorful, top-quality, nut products. We strongly believe in earth-friendly practices that start on our family-owned and operated orchards. We use organic farming practices and continue in the process by using all-natural ingredients with no preservatives or GMOs. We believe in honest, friendly and helpful customer relations at all levels. We take pride in every task, every day, with every person.