4 Reasons Almonds Should Be Your Go-To After-Workout Snack
Posted on : November 22nd, 2016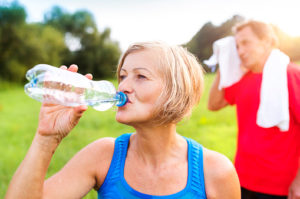 Whether you've done cardio, weight training, conditioning, a spin class, or something light to get your heart rate up, almonds and other nuts can provide you with ways to maximize the benefits of your workout even after you stop moving.
Physicians, nutritionists, and body building enthusiasts agree there are certain things your body needs to properly repair and build after pushing its limits. Maisie Jane's nut butters and nuts fit the bill with convenient snacks, and protein packed boosters.
1.  Almonds Help Your Body Restore
When you exercise, two things happen: your body burns through the carbohydrates your muscles are storing, then your body starts burning through your muscles. This is called protein breakdown (because your muscles are largely comprised of protein) and in moderation, is actually healthy.
Your muscles start breaking down old protein to use as energy. After your workout is when your body needs to build new muscle and replenish its carbohydrate stock. To do this, it needs – you guessed it – protein and carbohydrates.
Healthy fats are key. Your body can't properly absorb protein without fats, but they need to be unsaturated, polyunsaturated, or monounsaturated fats — think nuts, avocados, almond oil, etc.
2.  Almonds Are a Great Addition to a Healthy Lifestyle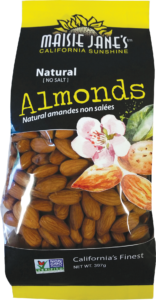 Whether your goal is to lose weight, maintain a healthy balance, or prepare for a bodybuilding competition, almonds are a great addition to your lifestyle.
Weight loss – Almonds are a great fit for all types of eating plans. If you're counting calories, almonds can help you satisfy cravings and resist those hunger pains.
Nutrition – Almonds contain fiber, monounsaturated fats (the good kind) and protein. They're an excellence source of vitamin E, magnesium, manganese, copper, phosphorous and riboflavin. Most people also don't realize what a great source of calcium almonds are. According to the Almond Board of California, when compared ounce for ounce, almonds are the nut highest in calcium at 75mg per ounce.
Energy – There are about 6 grams of protein packed into every ounce of almonds. Whether you need to power through a meeting or you're going for a power walk, almonds can give you the fuel you need for the day.
After a workout, your body needs specific nutrients to repair muscle and stabilize blood sugar. Your aim should be to eat something within an hour of finishing your workout. This is when your muscles are ready to efficiently absorb nutrients.
3.  Almonds Can Easily Be Added to Recipes
Grabbing a handful is quick and easy, but there are many, many delicious ways to get almonds in your diet and as a post-workout snack. Check out the recipes below:
5 Ingredients Is All It Takes To Make This Simple Almond Butter Shake
Add Flavor to a 4-Course Meal Using Organic Sliced-Almonds [Recipes]

4.  Almonds Can Conveniently Be Ordered Online
You can find a detailed list of additional vitamins and minerals found in the various nuts sold at Maisie Jane's here. Once you take a look at the benefits you can reap from supplementing your fitness journey with Maisie Jane's products, we know you're going to try it out for yourself. Check out our online store of nuts and nut butters for a tasty and complete supplement to your post-workout plan.
Because the truth is, not only can you taste the incredible quality of Maisie Jane's products, you can feel the superior nutritional difference.
Maisie Jane's California Sunshine Products, Inc. was founded on strong beliefs and passion for offering unique, flavorful, top-quality, almond products. We strongly believe in earth-friendly practices that start on our family owned and operated orchards. We use Organic farming practices and continue in the process by using all natural ingredients with no preservatives or GMOs. We believe in honest, friendly, and helpful customer relations at all levels. We take pride in every task, every day, with every person.