4 Key Components of Sustainable Family Farming at Maisie Jane's
Posted on : August 14th, 2017
Farming is a big responsibility. Less than 1% of the population in the United States are farmers – a few people with a big responsibility. At Maisie Jane's, being sustainable means grasping that responsibility to the fullest and viewing farming as more than a paycheck. It's being able to confidently know that you're doing your best to keep agriculture alive and preserve the land for future generations. It's taking care of the trees, the soil, and the environment so that is can be a long, sustainable journey for the land.
Every farmer has many different decisions to make, and so farming is personal to one's own beliefs depending on what's important to each particular grower. There are four key components that Maisie Jane has seen weaved through the four generations of her family that she hopes to continue.
1.  Balance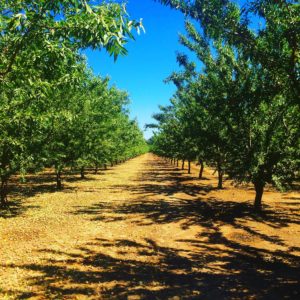 Each generation of Maisie's family has taught her to ask the right questions instead of finding a quick fix. An important example of four generations of sustainable traditions means trying to create a balance in the orchards when it comes to Integrated Pest Management.
Maisie learned from her father, who sat on the Board in charge of figuring out the best Integrated Pest Management practices, to ask the right questions early on such as:
Does a farmer just spray and take a recommendation from the chemical company or does he try to get to the root of the problem?
Why are these pests occurring? What is causing them? How can we create a better balance in the orchards?
Maisie's family has always made decisions that are environmentally friendly. When fertilizing, for example, a grower has many different options, such as the type of fertilizer. There are synthetically made types that are less expensive, and there's the composting type which requires a lot more handling and is more expensive, but healthier.
There are millions of farmers out there, but they all have different objectives. Maisie Jane's believes you can't just be about the bottom line. If you are, then you're going to sacrifice quality because using heavy sprays is, unfortunately, the easiest and least expensive way to farm the almond orchards.
Maisie Jane's, is very conscious of their farming choices and practices for the orchards, choosing natural fertilizers, integrated pest management practices, and cutting grasses to control weeds. They look at the big picture and strive to keep the orchard in harmony and balance so there's minimal impact on the natural processes. The intention is to keep the land healthy and fertile for generations to come.
2.  Work Ethic
It seems rare these days that people stick with just one thing for very long, but Maisie has always found comfort and inspiration in the dedication to farming she sees through the generations of her family. Uncles, aunts, cousins, grandparents, parents, and siblings were taught the value of persistence. She learned early on that farming is a big responsibility, waking up at 6 a.m. to help do her part around the farm tending to animals, the garden, etc. and having a good work ethic.
3.  Community Involvement
The farming community is very close, always communicating, supporting one another in whatever way is needed, and learning from each other. Maisie Jane's provides educational opportunities for the community, from field trips and tours of the orchards to classes coming out to help plant the annual pumpkin patch to participating in community events such as the Chico Nut Festival and Sierra Oro Farm trail – any opportunity that can connect customers to agriculture.
4.  Changing with the Times
It doesn't seem like long ago that Maisie's family was still using Prince and Barney, the work horses, to help with the orchard harvesting. But, they've also seen – and adapted to – the rapid changes in technology. Maisie's grandfather was part of the industrial revolution, giving his input designing the tractors that are still in use in the orchards today. Remaining open-minded, adaptable, and willing to evolve is what sets many farmers apart today.  Maisie Jane's believes you can remain sustainable by evolving and keeping your eyes and ears open for better, newer ways of doing things.
At Maisie Jane's, farming is a lifestyle and a livelihood and has been for four generations, building the company in the same way the orchards are managed and farmed – to be sustainable and continue to grow in healthy ways so that the company is around for many years; as well as preparing and nurturing the land to be fertile and productive for future generations.
Maisie Jane's California Sunshine Products, Inc. was founded on strong beliefs and passion for offering unique, flavorful, top-quality, nut products. We strongly believe in earth-friendly practices that start on our family owned and operated orchards. We use organic farming practices and continue in the process by using all-natural ingredients with no preservatives or GMOs. We believe in honest, friendly and helpful customer relations at all levels. We take pride in every task, every day, with every person.