The Legend of Gilda and the Almond Blossoms
Posted on : June 19th, 2018
It being June, the month of weddings, I thought I'd share a love story—one involving almond trees, of course! This tale comes from Algarve, Portugal, a gorgeously scenic place on the Mediterranean. It's a popular tourist destination but is also important agriculturally in the region. Almonds are one of the largest crops—the stuff of legends, no less. This one explains how so many almond trees came to be planted there.
Once upon a time, Algarve was ruled by the Moors. It was known as Al-Gharb then, and a young prince by the name of Ibn-Almuncim was its ruler. After conquering a Nordic land, some of the women were taken as slaves and one of the ones brought back to work at the palace was Gilda. She was a beautiful young woman with golden hair and after a short time the prince fell in  love with her. According to legend, the feeling was mutual and they were soon married.
But wedded bliss was short-lived. Gilda grew more and more sad and actually started to pine away from grief. The prince did everything he could to figure out how to help her. No doctor had a cure. But one day it was suggested that despite her contentment with the prince, Gilda was dying of homesickness.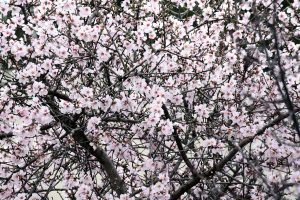 So the prince came up with a plan. He couldn't bring the Nordic snow to Portugal but he decided to do the next best thing. He had thousands of almond trees planted in front of the palace, down the hills and into the countryside. The idea was that when the trees burst into bloom, it would look like everything was blanketed with snow.
By the time this happened Gilda was confined to her bed, but the prince took her by the hand and helped her to the window. When she saw what he had done, her depression lifted. How could she not be lifted up by such a sight and how could she doubt the truth of the prince's love after seeing what he had done for her? From that time forward she could look out her window in late winter and see the white almond blossoms glistening in the sun like snow. Gilda never felt homesick again, and she and her prince lived happily ever after.
---
Maisie Jane's California Sunshine Products, Inc. was founded on strong beliefs and passion for offering unique, flavorful, top-quality, nut products. We strongly believe in earth-friendly practices that start on our family owned and operated orchards. We use Organic farming practices and continue in the process by using all-natural ingredients with no preservatives or GMOs. We believe in honest, friendly and helpful customer relations at all levels. We take pride in every task, every day, with every person.