Maple Baked Salmon with Chopped Almonds (Recipe)
Posted on : February 19th, 2019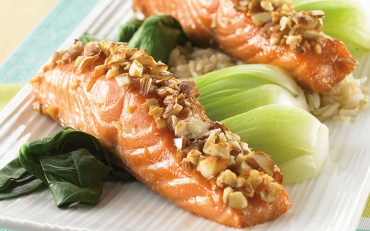 The health benefits of salmon are not the first thing I think of when I decide to pick some up for dinner. Wild caught, deeply colored, salmon is probably my favorite fish to eat. But in case you needed an excuse to make this delicious baked fish marinated with a sweet and salty orange, maple and soy sauce dressing, let me tell you how good it is for you!
Besides being a great source of protein, salmon is one of the best sources of  omega-3 fatty acids. Those are essential fats that your body cannot create on its own. Omega 3 has several health benefits. In particular, it is great for your heart because it decreases inflammation, lowers blood pressure, and improves the function of the cells that line your arteries. It also has been shown to reduce the risk of cancer and improve brain health. It is high in B vitamins, potassium, and selenium and a type of antioxidant (Astaxanthin) that both gives the fish its red color and lowers bad (LDL) cholesterol. This is one healthy fish!
This recipe, created by Liz Pearson for the Almond Board, is super easy to make and if you have almonds, you probably have all the ingredients at home already. It doesn't take long to make and will be the centerpiece of a wonderful dinner plated with your favorite rice or rice blend with salad or veggies.
Maple Baked Salmon with Chopped Almonds