Make Your Own Almond Biscotti
Posted on : September 20th, 2018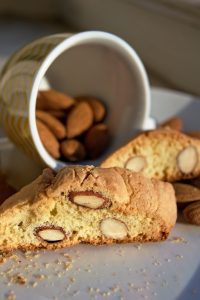 Is there any tradition more delightful than enjoying a lovely espresso coffee drink served with a crunchy almond biscotti? I don't think so! Biscotti, also known as cantucci, are twice-baked Italian almond biscuits invented by pastry chef Antonio Mattei in the nineteenth century. His original recipe used no form of yeast or fat but today most biscotti recipes often add a little baking powder or butter or both to make them a little less dry and dense. It's also quite common to add any number of flavorings: extracts, lemon or orange zest, anise, chocolate chips, chopped dried fruit, brandy or almond liquor. Some people even dip them in chocolate! I like every biscotti recipe I have ever tried but I'm sharing a basic but not quite traditional recipe you can use as a base.
A few tips, though, before we dive in:
• Almonds, pine nuts or pistachios are a must in every biscotti I know of. Almonds are traditional and the original recipe calls for them to be natural and unsalted with the skins on. However, most modern cooks agree that toasting the nuts is most flavorful. But that's easy! Just spread them out on a baking sheet and toast at 350 degrees for about seven minutes. Be sure to let them cool before adding them to the dough.
• Working with the biscotti dough isn't difficult but it is dense and sticky. If you have a a sturdy standing mixer with a paddle attachment, go ahead and use that. But the traditional method is to knead it by hand in a bowl or on your countertop. Oiling or wetting your hands first will make it easier to shape and transfer the dough to a baking sheet.
• The biscotti loaves will need to be cut into slices after baking. Do this while they're still warm to avoid having them crumble. Use a nice sharp knife with a flat blade if possible and cut straight down or a use serrated knife with a sawing motion.
Almond Biscotti
INGREDIENTS
1 cup sugar
1 stick unsalted butter, melted
2 teaspoons almond extract
1 teaspoon vanilla extract
1 cup whole almonds, lightly toasted, cooled, and chopped coarsely
3 large eggs
2 3/4 cups all-purpose flour
1 1/2 teaspoons baking powder
1/4 teaspoon salt
PREPARATION
Combine sugar, butter and extracts in a large bowl. Stir in the almonds and eggs. Then mix in the flour, baking powder, and salt until just combined.
Chill the dough in the refrigerator, covered, for about 30 minutes.
Preheat oven to 350°F.
Halve the dough and make 2 long loaves (about 14″ by 2 1/2″) on a large ungreased baking sheet.
Bake about 30 minutes until lightly golden. Gently transfer the loaves to a rack and cool 10-15 minutes, until warm but not too hot to touch.
Gently place the loaves on a cutting board and cut them on the diagonal into 1/2″- 3/4″ wide slices.
Arrange the biscotti, with the cut side down, on a clean baking sheet and bake a second time until golden, 20 to 25 minutes. Transfer to a rack again to cool completely before serving. They become firmer and crunchier as they cool.
Your biscotti can be stored in an airtight container for 7-10 days and, in fact, taste even better after sitting a day or two. But who wants to wait that long? Pour yourself a cup of coffee, or be really traditional and make it a glass of wine, and dive right in!
---
Biscotti photo by Gwang17-Blog: intoafoodcoma.wordpress.com [CC BY-SA 4.0 (https://creativecommons.org/licenses/by-sa/4.0)], via Wikimedia Commons
---
Maisie Jane's California Sunshine Products, Inc. was founded on strong beliefs and passion for offering unique, flavorful, top-quality, nut products. We strongly believe in earth-friendly practices that start on our family owned and operated orchards. We use Organic farming practices and continue in the process by using all-natural ingredients with no preservatives or GMOs. We believe in honest, friendly and helpful customer relations at all levels. We take pride in every task, every day, with every person.