Maisie Jane's Top 3 Favorite Farming Traditions
Posted on : August 30th, 2017
From climbing almond hull piles 10 stories high to hay rides celebrating the bounty of harvest, Maisie Jane shares some of her favorite farming traditions and what she's continually trying to expose her daughters too.
What was your favorite family tradition growing up?
Working side by side with my family. I always enjoyed working with my grandpa. I have great memories of pruning orchards in the fall with my grandpa, siblings, and cousins. We all lived near each other, so you could walk through any orchard and get to a family member.
I think of not only working in the orchards but playing in the orchards – riding bikes, meeting my cousins halfway through, getting together for everybody's birthdays and holidays.
Another favorite tradition was playing in the almond hull piles during harvest. The hull piles seemed to get 10 stories high! As kids, we would climb up and just slide down. Every year during harvest we'd also have a pumpkin patch and hay ride, which was just a really neat time to get together.
Do you have any company traditions?
We always have an annual harvest party in late October or early November. It's a time to bring together not only family but all the workers that helped through the busy time of harvest – people are always working 24/7 during this time. There's always music, good food, and lots of dancing.
We also do more than one harvest party. We do a harvest party for the field workers and their families and we host an annual harvest party for all of Maisie Jane's staff and our growers – since we buy from local growers we love inviting them too. Last year, we had a square dance caller and a dunk tank. It's all about bringing everybody together.
What traditions have you started with your 3 girls?
I'm always striving to connect them to all aspects of Maisie Jane's. Starting out, we have an at-home, year-round garden. It's always been a fulfilling hobby. We bake pies, try to eat seasonally, and enjoy the bounty that is here for us. They've also always participated in planting the pumpkin patch. It's kind of like a little mini business for them. I encourage them to appreciate and understand the simple things in life.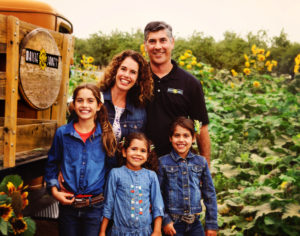 They've definitely grown up in the business, and I do try to expose them as often as possible. I think it's important for them to see their parents working and understanding what we do. They love working in the retail store, they've worked in the line in the processing plant, and my 10-year-old recently went to a big trade show with me. She was communicating with customers and interacting with them, sharing about the farming practices. On the flight home, she said, "Mom, now I really get it. I really understand the distributors and retailers and what everybody says."
The girls know the different areas of the business and possible opportunities if they're interested. They're very specific where they see themselves and it corresponds directly with their personalities. We'll see!
---
Maisie Jane's California Sunshine Products, Inc. was founded on strong beliefs and passion for offering unique, flavorful, top-quality, nut products. We strongly believe in earth-friendly practices that start on our family-owned and operated orchards. We use organic farming practices and continue in the process by using all-natural ingredients with no preservatives or GMOs. We believe in honest, friendly and helpful customer relations at all levels. We take pride in every task, every day, with every person.