Maisie Jane's for Valentine's Day
Posted on : January 30th, 2020
Valentine's Day is coming and what better place to shop for something special for your sweetie, and for all your loved ones, than Maisie Jane's! If you're local, stop by our country store at 1324 Dayton Rd. In addition to gift baskets and chocolate almond treats, you could pick up a bottle of wine, some nice jewelry or a scarf, or any number of wonderful gifts. If you're shopping online, let me point you in the direction of some of my favorite Valentine's Day selections here today. You can arrange to pick up in-store or have them shipped anywhere you like!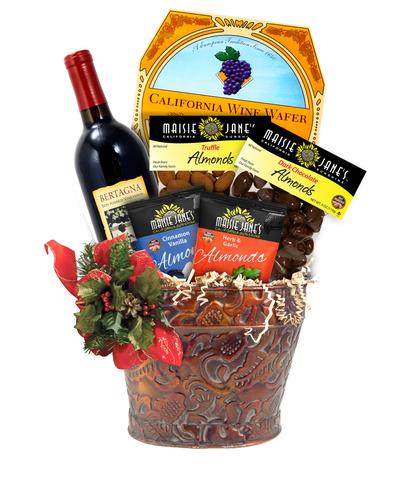 Any of our gift baskets are great but some are more romantic than others. Imagine showing up to your sweetie's house with this decorative reusable tin pail filled with Bertagna Son Kissed Vineyard's Barbera Wine, California Wine Wafers, Maisie Jane's Cinnamon Vanilla Almonds, Country Herb & Garlic Almonds, Dark Chocolate and Chocolate Truffle Almonds. Ahh!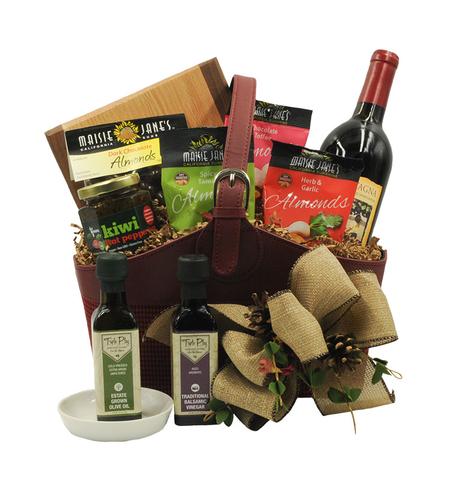 Does your romantic evening run more to appetizers than sweets? Does your sweetie love to cook? One of my favorite romantic dinner ideas starts with good French bread dipped into balsamic vinegar and olive oil. You'll have to add a loaf of bread to this gift but imagine the look in her eyes when she sees this wonderful basket and handmade Bob Mabry cutting board and dipping dish along with Triple Play Estates Grown Extra Virgin Olive Oil, Triple Play Traditional Balsamic Vinegar, Bertagna Son Kissed vineyards Barbera wine, T.J. Farms Kiwi Pepper Jam, and Maisie Jane's Spicy Tamari, Herb & Garlic, Dark Chocolate, and Chocolate Toffee Almonds. The look will be even more wonderful if YOU slice the bread, pour the wine, and set everything else in serving dishes on the table! Enjoy!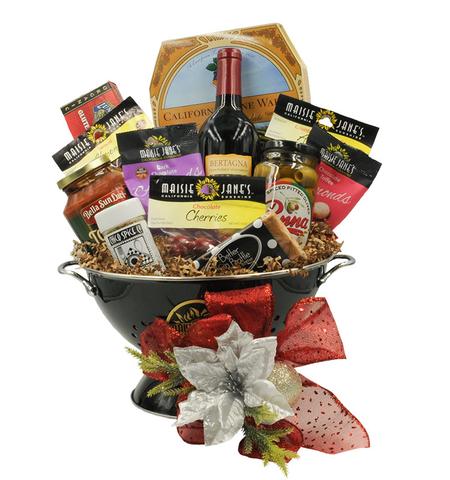 Have you gotten the message yet? If you want to find your way into your loved one's heart, don't make her cook (or clean up) on Valentine's Day! Ready to go all out? Make the whole dinner! This large, colorful pasta colander contains everything you need: Penna Sicilian Olives, Mooney Farms Pasta Sauce, Lundberg Farms Rice Pasta, Bertagna Son Kissed Vineyards Sangiovese wine, Wine Wafers, Chico Spice's Garlic & Herb blend, Maisie Jane's Country Herb & Garlic Almonds, Tamari Almonds, Chocolate Cherries, Dark Chocolate Almonds, Chocolate Toffee Almonds, and Better Than Brittle bar. She'll love it!
---
Maisie Jane's California Sunshine Products, Inc. was founded on strong beliefs and passion for offering unique, flavorful, top-quality, nut products. At Maisie Jane's we strongly believe in earth-friendly practices that start on our family owned and operated orchards. We use Organic farming practices and continue in the process by using all-natural ingredients with no preservatives or GMOs. And we believe in honest, friendly and helpful customer relations at all levels. We take pride in every task, every day, with every person.