Healthy and Delicious Thai Sweet Potato and Parsnip Soup (Recipe)
Posted on : December 31st, 2018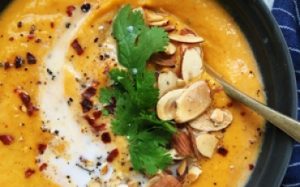 If your New Year's resolution is to eat healthier, you might be interested in today's recipe for vegan Thai Sweet Potato and Parsnip soup. It contains three of the most nutritious foods you can eat and does so in the most delightful way. Thai cuisine is quite definitely my favorite ethnic food. Spicy hot and yet sweet—it's a combination that in my book just can't be beat. And I'm not exaggerating when I said the ingredients in this soup are "most nutritious." It contains sweet potatoes, ginger and almonds.
Scientists were given the task of evaluating 1000 foods for nutritional quality with the idea of discovering which ones gave you the most value without exceeding your daily needs when eaten in combination with others. In other words, which ones could be used in a healthy diet without having too many adverse effects. They then ranked the top 100 foods. Guess what topped the list at #1? ALMONDS! Our favorite nut at Maisie Jane's is a great source of protein, mono-unsaturated fatty acids, and minerals that promote good cardiovascular health and may help with diabetes. Almonds got a nutritional score of 97 which is, in this case, as high as it gets.
Also, in the top 100 were sweet potatoes—a delicious source of beta-carotene or Vitamin A, antioxidants, and anti-inflammatory properties. They also all full of fiber and phytosterols which have a very positive effect on your digestive system. They might even provide protection against or help you manage duodenal and gastric ulcers. And they are lower on the glycemic scale than white potatoes so they're great for diabetics, too!
And ginger—one of my favorite warming winter season spices— is also featured in this recipe. Ginger was picked for the top 100 list because it contains high levels of antioxidants. It also has medicinal qualities. It is used as a digestive stimulant and to treat colds. Ginger tea alone or in chai, which is a combination of ginger, cinnamon, cardamom and other winter spices, is an extremely useful cold season drink.
In this recipe created by Julie Resnick, founder of The Feedfeed, for the Almond Board of California, you'll get the benefits of all these foods melded with traditional Thai ingredients like hot pepper, red curry paste and lime. It also calls for 2 cups of almond milk. If you already have some on hand, you'll find the recipe fast and easy. If not, plan ahead so you can soak your almonds overnight before blending them. You'll find a recipe for making your own almond milk on this site.
Thai Sweet Potato and Parsnip Soup
INGREDIENTS:
1 tablespoon coconut oil
2 small yellow onions, chopped
1 small jalapeno pepper, minced
4 cloves garlic, minced
1 tablespoon (about 1-inch) fresh ginger, minced
2 tablespoons red curry paste
1 tablespoon curry powder
2 cups almond milk, plus more for serving if desired
¼ cup Maisie Jane's Smooth Almond Butter
3 cups low-sodium vegetable broth, plus more if needed
2 cups diced peeled parsnips (about 2 large parsnips)
4 cups diced peeled sweet potatoes (about 2 large sweet potatoes)
Kosher salt, to taste
Freshly ground black pepper
½ cup fresh lime juice
Fresh cilantro, toasted almonds, red pepper flakes for serving
PREPARATION:
Melt the coconut oil in a large pot over medium heat. Add the onion, jalapeno, garlic, and ginger and sauté until the onion is translucent, about 5 minutes. Add curry paste and curry powder and stir until combined, about another minute.
In a small bowl, whisk together almond milk and almond butter until smooth. Add the mixture to the pot, along with the vegetable broth, parsnips, sweet potatoes, and salt. Stir until combined.
Bring the soup to a low boil over medium-high heat and then reduce the heat to medium-low. Cover and simmer until the potatoes and parsnips are tender, about 18-20 minutes.
Using a blender, add soup in batches and puree. Be patient and avoid letting the hot steam escape from the lid.  Blend on low and slowly increase the speed until the soup is completely smooth. You can also use an immersion blender.
Once pureed, add salt, pepper and lime juice. Ladle into bowls and serve with toppings, especially more almond milk, if desired.
---
Maisie Jane's California Sunshine Products, Inc. was founded on strong beliefs and passion for offering unique, flavorful, top-quality, nut products. We strongly believe in earth-friendly practices that start on our family owned and operated orchards. We use Organic farming practices and continue in the process by using all-natural ingredients with no preservatives or GMOs. We believe in honest, friendly and helpful customer relations at all levels. We take pride in every task, every day, with every person.