It's Gift Basket Season at Maisie Jane's!
Posted on : December 5th, 2017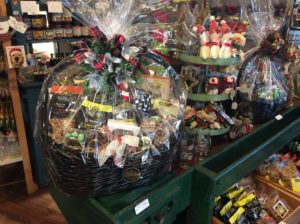 It's the most wonderful time of the year! And Maisie Jane's is about to make it easy for you to deck the halls with all kinds of wonderful goodies. We have unique gift solutions for everyone on your holiday list, whether they live nearby or far away, and you don't even need to leave the house to make it happen! Avoid the stress of going to the mall and fighting the crowds. Just make yourself a steaming cup of tea or hot chocolate and check out our amazing assortment of beautifully decorated and thoughtfully curated gift baskets. Order online and then pick them up in our gift shop in Chico, CA or have them packaged and shipped by us to wherever you wish.
What's in them? Well, we're glad you asked because we're proud to be offering such a wide variety of healthy and delicious choices. All of our gift baskets have our very own freshly roasted almonds —natural, flavored or drenched in chocolate—paired with other local offerings. Some baskets might include a bottle of wine, oil and vinegar, salsa, spreads, nut butter, cheese and crackers, or olives. Others may be filled with a variety of sweet treats. And the baskets and boxes themselves are so gorgeous, fun and/or useful, they make a lovely gift in themselves.
Be sure to place your order by December 18th to guarantee your gifts make it under the tree for Christmas!
We have over 60 different gift baskets, boxes, rounds or crates to choose from! Here are just a few highlights from our list:
This is one of our newest offerings. It includes an attractive wood with pressed-tin accent keep-sake box filled with the best chocolate delicacies from California. Included is Bertagna Son Kissed Vineyards Sangiovese wine paired with Joy Lynn's award winning Hop Salt Stout Caramels, Maisie Jane's Tamari Almonds, Orange and Spice Almonds, Dark Chocolate Almonds, and Cappuccino Almonds.
Everything a person needs to make a heart-warming and delicious meal complete with Mooney Farms Pasta Sauce, Lundberg Farms' Rice Pasta, Butte View Olive Oil, Triple Play Traditional Balsamic, Penna Sicilian Olives, Maisie Jane's nuts (Country Herb & Garlic Almonds, Tamari Almonds, Dark Chocolate Almonds, Chocolate Toffee Almonds) and Better than Brittle Soft Peanut Brittle. It comes cello wrapped in medium-sized colored colander with a festive holiday bow.
Want a gift to please a whole gang of people? Try a larger gift basket filled with tasty treats for easy snacking in a home or office environment! Loaded with: A Chocolate Delight Nut Round, Sweet & Salty Nut Round, two bags Caramel Corn & Almonds, bulk bags of Oven Roasted Almonds, Roasted Salted Pistachios, Chocolate Cherries, Mint Chocolate Almonds, and Organic Natural Cashews.
Check out all our gift options at our convenient online Maisie Jane's gift shop where there's something for everyone to enjoy!
Maisie Jane's California Sunshine Products, Inc. was founded on strong beliefs and passion for offering unique, flavorful, top-quality, almond products. We strongly believe in earth-friendly practices that start on our family owned and operated orchards. We use Organic farming practices and continue in the process by using all natural ingredients with no preservatives or GMOs. We believe in honest, friendly, and helpful customer relations at all levels. We take pride in every task, every day, with every person.