Chocolate Chips, Oatmeal, Almond Butter: Not Your Average Cookie Bar
Posted on : August 16th, 2017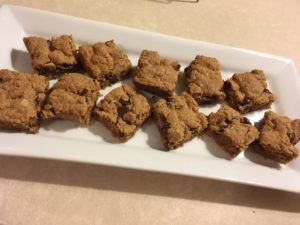 You might have come across this recipe and thought, "Oh, just another cookie bar!" but don't scroll on by too fast, because these aren't your average cookie bar. Not only are they a crowd-pleaser because they're vegan and gluten-free, but they're also sweetened with just the right amount of dark chocolate chips to satisfy your sweet tooth.
These cookie bars are near perfect because they're healthy too. Free of refined sugar, packed with fiber and whole grains, vegan and gluten-free, yet still chocolatey, gooey and delicious! They're sure to go fast at your next gathering, so be sure to make extra so you can have a sweet treat to indulge in on your own.
Almond Butter Oatmeal Chocolate Chip Cookie Bars
Here are the ingredients you'll need for these mouth-watering chocolate chip cookie bars
Ingredients
1 cup coconut sugar
2 teaspoons pure vanilla extract
1 1/4 cups oat flour
1/4 cup rolled oats
1 1/2 teaspoons aluminum-free baking powder
1/4 teaspoon fine sea salt
1/4 cup plus 2 tablespoons unsweetened almond milk
1/3 to 1/2 cup dark chocolate chips, to taste
For complete instructions for this recipe, visit Blissful Basil  – you'll also get some insightful commentary about perfectionism too!
Of course, we recommend using Maisie Jane's smooth almond butter, not only for its health benefits, but also for its smooth, creamy texture, a variety of uses, and a burst of flavor from the 100% dry-roasted almonds. Offered in crunchy and smooth, it's great to use in many different types of recipes, but you can also enjoy it in a variety of ways: on sliced apples, as an almond butter and jelly sandwich, or by the spoonful!

Maisie Jane's California Sunshine Products, Inc. was founded on strong beliefs and passion for offering unique, flavorful, top-quality, nut products. We strongly believe in earth-friendly practices that start on our family owned and operated orchards. We use organic farming practices and continue in the process by using all-natural ingredients with no preservatives or GMOs. We believe in honest, friendly and helpful customer relations at all levels. We take pride in every task, every day, with every person.