Almond-Based Frangipane and King Cake (Recipe)
Posted on : January 5th, 2018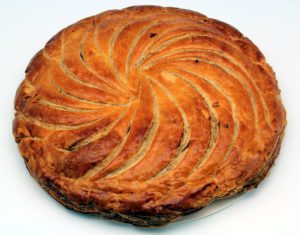 A friend on Facebook recently asked "Does anyone know where I can buy King Cake in New England?" She was missing her old home in New Orleans but the only answer she got was to make her own. So I became curious. What is King Cake? And why would she say it was so important at this time of year? So I looked into it and discovered that not only is this a delicious sounding treat with an interesting history, it's made with one of my favorite almond dessert items–Frangipane!
King Cake, sometimes known as Three Kings Cake, is a traditional food eaten at the festival of Epiphany on January 6th (or thereabouts) in many countries around the world. Epiphany celebrates the day when the baby Jesus was presented to the three wise men but the time period also corresponds, generally speaking, with an earlier pagan festival called Saturnalia. At that celebration a bean would be baked inside a cake, everyone would receive a slice, and the person who found the bean would be crowned King (or Queen) for the day and lots of fun would ensue.
In France, this cake is called Galette Des Rois, and by using puff pastry and Frangipane (almond cream) they raised this treat to an art form. It's been considered part of the Epiphany feast there for about 300 years. The French brought the tradition to New Orleans and now hundreds of thousands of them are eaten each year during the pre-Lenten Mardi Gras season. Hundreds of thousands! It's just not Mardi Gras without King Cake!
Of course, there are many kinds of King Cake. In New Orleans you're most likely to find King Cakes made of sweet brioche dough in the shape of a ring with multiple colors of sugar glazed toppings. Instead of a bean you're more likely to find a small figurine. It could be a baby to represent the baby Jesus or something amusing like a cultural icon or movie figure. But the puff pastry version shown at the top of the page is also popular. It's simpler looking—I'd call it elegant—with simple slits on the top of at least two layers of flaky buttery pastry with frangipane sandwiched in between. That's the one that makes my mouth water, so let's make some!
Frangipane
1/2 cup ground almonds
1/4 cup granulated sugar
1 egg
3 tablespoons butter (softened)
3/4 teaspoon vanilla extract
1 tablespoon all-purpose flour
We first need to make frangipane, the almond cream filling that makes this such a treat. Do you have a food processor? Good, because that's the easiest way to do it: Simply grind your almonds into a fine meal or powder, avoiding going all the way to nut butter. Use 1/2 cup of ground almonds for this recipe. (I don't know how many nuts grind down to 1/2 a cup but if you make too much, have no fear, just make more frangipane! Or put the excess aside for other purposes.) Then add the other ingredients to the ground almonds in your food processor and combine until you have a smooth creamy paste.
Galette Des Rois
1 package (about 17 ounces) of frozen puff pastry sheets (thawed in the refrigerator)
1 batch frangipane (above)
1 egg (beaten)
2 tablespoons confectioner's sugar
Preheat the oven to 425F.
Roll out the puff pastry sheets and use a plate or a 10″ pie pan as a template to cut out two circles.
Place one of the circles on a parchment-lined baking sheet.
Spread the frangipane on the puff pastry to within 1 1/2 inches of the outer edge of the circle.
Place the second pastry circle on top of the almond filling, then press or crimp the edges of the pastry together to seal the filling inside.
Lightly slice a decorative pattern in the top layer of the pastry, being careful not to cutting through to the frangipane filling. Be as fancy or as simple as you like but do add the slits–they allow the steam to escape.
Brush the top of the galette with the beaten egg and bake it for 15 minutes.
Take the cake out of the oven, dust it with the powdered sugar, and bake for another 10 to 12 minutes, until the top turns golden brown.
Allow to cool about 20 minutes before serving.
If you want to put a bean or other trinket in your Galette des Rois, hide it in the frangipane filling before placing the second layer of pastry on top. Be sure to warn your guests when you serve it!
It is also traditional to decorate the Galette after it has cooled with a cardboard crown for the person who finds the bean to wear but that's not a requirement.
---
Maisie Jane's California Sunshine Products, Inc. was founded on strong beliefs and passion for offering unique, flavorful, top-quality, nut products. We strongly believe in earth-friendly practices that start on our family-owned and operated orchards. We use organic farming practices and continue in the process by using all-natural ingredients with no preservatives or GMOs. We believe in honest, friendly and helpful customer relations at all levels. We take pride in every task, every day, with every person.
---
Photo of the Galette de Rois is by Lionel Allorge (Own work) [GFDL (http://www.gnu.org/copyleft/fdl.html), CC BY-SA 3.0 (https://creativecommons.org/licenses/by-sa/3.0) or FAL], via Wikimedia Commons
Photo of the New Orleans King Cake is by Darjeelingtea at English Wikipedia [Public domain], via Wikimedia Commons