Why We're Proud to Dry Roast Our Nuts at Maisie Jane's
Posted on : July 31st, 2018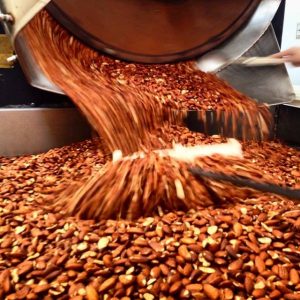 Well, the first thing I can't seem to help myself from saying is that it is far better to dry roast nuts than human beings! I'm roasting in my house as I'm writing this blog post tonight! It's 8:30 pm and still 96ºF! Of course, that's an improvement over the 106º we hit earlier in the day! But as my friends in New England like to say "Oh! But you're lucky, at least, it's a DRY heat!" Uh huh, lucky like living in a sauna! I'm not a fan. But when it comes to nuts, dry roasting is a VERY good thing!
Here at Maisie Jane's, we dry roast ALL our nuts in barrel style fire-roasters that bring out the best flavor in the healthiest of ways. Many companies roast their nuts in oil.  Which pretty much means those nuts are fried! Why would you do that? A nut's calories come mostly from fat already, albeit mostly healthy fats! But once you fry them you're changing a really healthy food into something not so healthy at all. Plus one reason manufacturers process their nuts in oil is because the oil can mask the flavor of the nuts. That means they can get away with using nuts that are less than fresh and the oil itself may be sub-par.
We're proud to bring you a food that is healthier for you and, we think, much tastier besides! It also allows us to offer products that are free of useless additives that aren't good for you. For example, look at the label on one of our Organic Maisie Jane's Almond Butters. It has ONE ingredient: 100% dry roasted almonds. That's it! Plus it's non-GMO Project Verified, Kosher Certified, USDA Organic and made in plant that does not process peanuts.
In other words, you can rest assured that you'll be serving yourself and your family an almond butter that is wholesome and as delicious as can be!
---
Maisie Jane's California Sunshine Products, Inc. was founded on strong beliefs and passion for offering unique, flavorful, top-quality, nut products. We strongly believe in earth-friendly practices that start on our family owned and operated orchards. We use Organic farming practices and continue in the process by using all-natural ingredients with no preservatives or GMOs. We believe in honest, friendly and helpful customer relations at all levels. We take pride in every task, every day, with every person.