Make Father's Day Spicy and Sweet at Maisie Jane's
Posted on : June 13th, 2019
Looking for a last minute Father's Day gift? Don't buy him a tie! Get him something he'll enjoy like a box of wonderful savory and sweet treats from Maisie Jane's! Zip on over to our delightful country gift shop at 1324 Dayton in Chico and be tempted by a wide array of wonderful gift ideas. For example, pick from one of our specially curated and ready to give ready-made gift baskets, boxes or crates. Or put together your own selection of local wines, gourmet foods, and Maisie Jane's flavored and chocolate nuts. Need a few suggestions to get you to come on over? Here are a few of my favorites: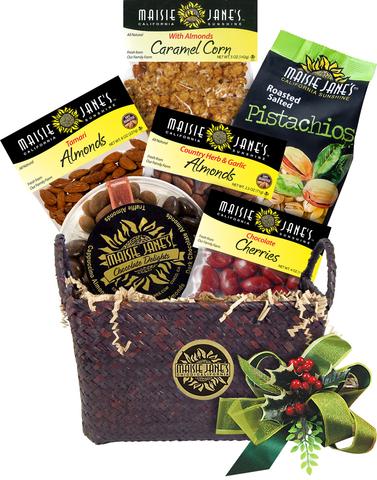 To be honest, this gift basket was originally intended for a group to share. And. hey, maybe your dad is the sharing type! But when I think about what my dad would like, a big selection of his favorite treats always comes to mind. Especially something bountiful enough to enjoy for more than one day! Handsome-looking and already decorated with a season-appropriate bow, this simple basket is filled with: Maisie Jane's Chocolate Delight Round-small, a bulk bag of Roasted Salted Pistachios, Chocolate Cherries, Caramel Corn with Almonds, Country Herb & Garlic Almonds, and Tamari Almonds. He'll love it!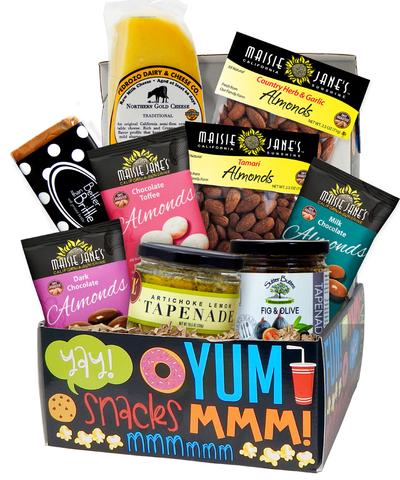 Maisie Jane's youngest daughter picked these and I think she has great taste! This fun gift box is filled with some wonderful selections Dad is sure to enjoy: Pedroza cheese, Lucero Artichoke Lemon Tapenade, Sutter Butte's Olive and fig spread, Better than Brittle Bar,  Maisie Jane's Country Herb & Garlic Almonds, Tamari Almonds,  Dark Chocolate Almonds, Chocolate Toffee Almonds, and Milk Chocolate Almonds. It's a feast in a box! Yum.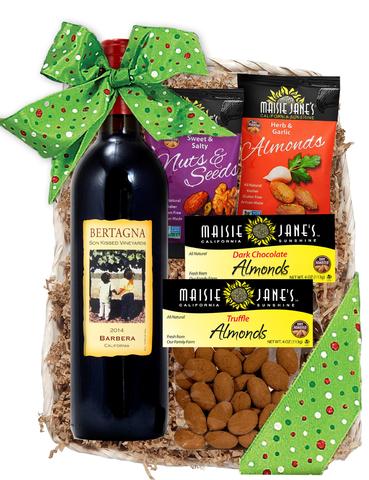 Would dad prefer a nice bottle of local wine with his snacks? Try some of life's finest pleasures: Bertagna Son Kissed Vineyards Barbera Wine paired with Maisie Jane's Dark Chocolate, Chocolate Truffle Almonds, Herb & Garlic Almonds, and Sweet & Salty Seed Mix.
---
Maisie Jane's California Sunshine Products, Inc. was founded on strong beliefs and passion for offering unique, flavorful, top-quality, nut products. We strongly believe in earth-friendly practices that start on our family-owned and operated orchards. We use organic farming practices and continue in the process by using all-natural ingredients with no preservatives or GMOs. We believe in honest, friendly and helpful customer relations at all levels. We take pride in every task, every day, with every person.