Gift Baskets and Rounds for Thanksgiving—Buy Online from Maisie Jane's!
Posted on : November 3rd, 2017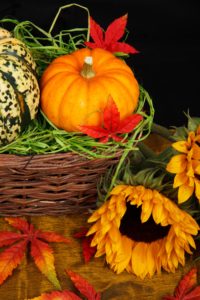 Thanksgiving is right around the corner. In this author's family, the holiday includes getting together with family and friends and everyone contributes something to the Thanksgiving feast. Of course, homemade goodies are most common. But some of us live so far away from home that we just can't participate unless we send a basket of holiday treats or bring one with us when undertake the journey.
Maisie Jane's can help! Our beautiful and thoughtfully selected gift baskets and gift rounds are always a welcome gift because they're filled with only the finest high-quality products that are healthy and delicious. And they're so easy to send because if you plan ahead (now is a great time), all you need to do is order them online and we'll do all the rest of the work by sending them to your family or friends for you!
Gift Rounds
The gift rounds have become a traditional part of so many people's family celebrations, and that is appropriate because nuts were present at the very first Thanksgiving. In fact, some of  us think it just isn't the holidays without a selection of Maisie Jane's nuts on the table. Two of my favorites:
The Harvest Bounty is the first choice I always think of for Thanksgiving. It's a large round filled with a generous selection of Cinnamon Glazed Almonds, Organic Honey Glazed Cashews, Country Herb & Garlic Almonds, and Roasted Salted Pistachios. A great variety of all-time favorites!
Net Wt. 1.5lbs
Love the idea of sending a large round but wish it also contained some of our delicious chocolate treats? Try our double stack: a large round of Cinnamon Glazed, Tamari, Orange & Spice, and Country Herb & Garlic topped with a small round of Chocolate Toffee, Dark Chocolate, Truffle, and Cappuccino Almonds. This will be a stunning addition to any holiday table.
Large round net wt. 1.75 lbs, small round net wt. 14oz.
Gift Baskets
Maisie Jane's gift baskets have our signature freshly roasted almonds paired with other local products such as sauces, syrups, snacks, and olives. Some baskets may include a bottle of wine, oil and vinegar, salsa, spreads, nut butter, cheese and crackers, or yummy sweet treats. They come carefully and beautifully arranged in baskets, crates, and decorative boxes. For your convenience, our online store has a picture of each basket as well as a list of the specific contents of each assortment, so have fun checking them out! My top pick for a basket filled with easy to eat snacks and treats?
Try one of our Family Fun or Office Enjoyment Baskets filled with tasty and easy snacking for eating while watching football before or after the holiday feast or for celebrating the holiday with people at work in an office environment!  Loaded with: Bertagna Son Kissed Vineyard's Sangiovese Wine, Wine Wafers, Maisie Jane's Large Chocolate Delight Nut Round, Large Sweet & Salty Nut Round, two bags of Caramel Corn & Almonds, 16oz Roasted Almonds, 16 oz Roasted Salted Pistachios, 16oz bag of Roasted Salted Cashews, Chocolate Cherries, and dried Apricots.  All packed and bowed in a beautiful basket.   – Note:  Adult signature required at time of delivery.  Additional $4.00 (alcohol) shipping cost is included.
Check out our entire assortment of Rounds, Gift Baskets, Crates and Flat Baskets, and Treat-Filled Gift Boxes today!!!
---
Maisie Jane's California Sunshine Products, Inc. was founded on strong beliefs and passion for offering unique, flavorful, top-quality, nut products. We strongly believe in earth-friendly practices that start on our family-owned and operated orchards. We use organic farming practices and continue in the process by using all-natural ingredients with no preservatives or GMOs. We believe in honest, friendly and helpful customer relations at all levels. We take pride in every task, every day, with every person.