Chocolate Almond Coffee Cake (Recipe)
Posted on : January 1st, 2020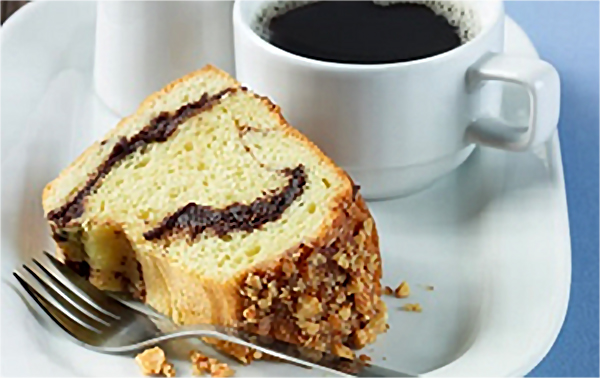 New Year's Day! The start of a brand new year, new beginnings, a new start. I usually begin every year with resolutions, but this year I think I need to start with just a little more rest. Luckily, enjoying life is a perfectly great resolution, too! And, for me, one of my great pleasures is a hot cup of something to drink and a slice of coffee cake, eaten while still in my bathrobe on the porch or in front of the fire. Doesn't that sound great?
That's why this Chocolate Almond Coffee Cake recipe caught my eye. It's a little more time-consuming than the recipes I usually share because you need time to let the bread rise. But you don't have to do much while the bread is rising. And it's worth the wait because there is nothing like an old-fashioned coffee cake made with leavened yeast dough! Make it the night before and enjoy it the next morning. A perfect way to start the day.
Chocolate Almond Coffee Cake
INGREDIENTS:
1/2 cup butter
3/4 cup sugar
1 tsp. salt
1 package active dry yeast
1/4 cup warm water (115 F)
1/2 cup warm milk
4 eggs
3 1/2 cups flour
1 cup almond paste
1/2 cup cocoa
1/2 tsp. almond extract
1/2 cup Maisie Jane's Roasted Almonds, finely chopped
PREPARATION:
Cream butter with 1/4 cup sugar and salt.
Dissolve yeast in warm water, add a pinch of sugar; let stand until bubbly.
Add milk, yeast, eggs and flour to creamed mixture; mix well. Cover and let rise in warm place 2 hours or until mixture doubles.  
Meanwhile, combine almond paste, remaining 1/2 cup sugar, cocoa and almond extract; set aside.
Generously butter an 8-cup tube mold; sprinkle with almonds and 1 Tbs. sugar.
After 2 hours, stir the dough down and place 1/3 into prepared mold, building up around tube. Sprinkle with half of almond paste and cocoa mixture. Repeat, ending with dough. Seal edges of dough to pans with floured hands. 
Bake at 400 F, 40 minutes. Remove from pan and let cool. 
---
Maisie Jane's California Sunshine Products, Inc. was founded on strong beliefs and passion for offering unique, flavorful, top-quality, nut products. At Maisie Jane's we strongly believe in earth-friendly practices that start on our family owned and operated orchards. We use Organic farming practices and continue in the process by using all-natural ingredients with no preservatives or GMOs. And we believe in honest, friendly and helpful customer relations at all levels. We take pride in every task, every day, with every person.