Almond or Cashew Butter Hummus (Recipe)
Posted on : April 24th, 2018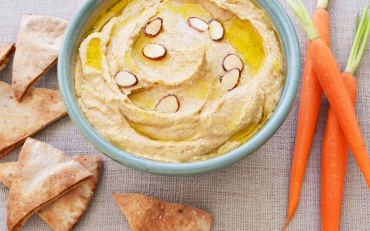 Many years ago I lived just a few short blocks away from a Mediterranean foods restaurant that served wonderful dishes from Greece and the Middle East. One of my favorites was Falafel with Hummus dip, salad and pita bread.  Today I'm more likely to buy frozen Falafel at the grocery store (although this recipe from Epicurious looks awfully good). And store-bought hummus isn't too hard to find. But I recently found this super easy recipe created by Julie Van Rosendaal for the Almond Board that I can make with our delicious Smooth Almond Butter or Cashew Butter instead of Tahini. Heaven! I like it better than the traditional kind!
Hummus is a delicious, creamy, thick dip or paste made from mashed chickpeas and a variety of other ingredients including lemon juice, garlic, and Tahini (ground toasted sesame seeds). It is eaten throughout the Middle East and Northern Africa, often every day. But in this country a jar of Tahini is likely to dry up or go bad before it's used up. If you want to make hummus yourself, you better get in the habit of eating a lot yourself or substitute something you're more likely to eat more of — like nut butter. That doesn't go bad in my house!
Hummus, though, is not only delicious—it's bursting with nutrition! It's a great vegetarian source of protein, vitamins and minerals and makes an excellent portable lunch or snack when served with cooked falafel, crackers, breadsticks, pita wedges, fresh veggies or apple slices. You can also blend hummus with olive oil, lemon juice, and paprika to make a delicious salad dressing, or use it to top baked fish. This recipe makes about 2 cups.
Preparation: