Almond Cheesecake Swirl Brownies (Recipe)
Posted on : March 30th, 2020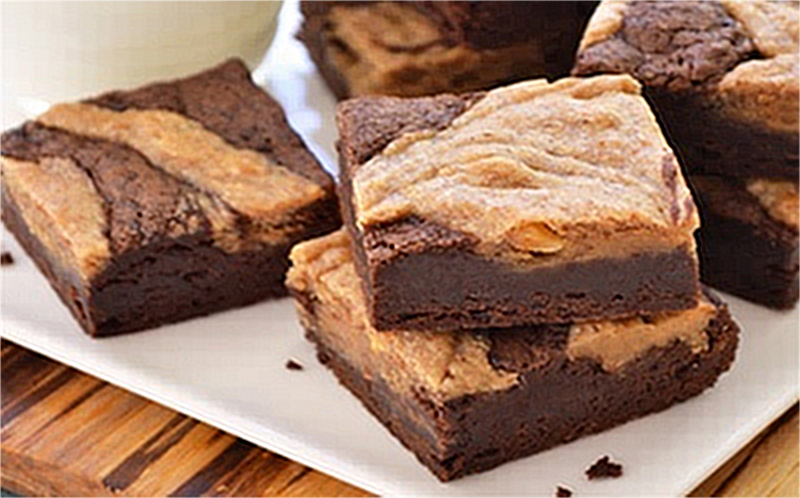 Feeling a bit stressed? It's time to get baking! Apparently, baking to relieve stress is a thing now. It keeps your mind focused on what you're doing and not on the news. It lets you work with your hands and relax your mind while enjoying the sight and smells of items so many of us associate with nurturance and childhood delights. Not only that, you spend part of your time looking forward to something you made yourself. And you can share it with someone else and make their day a little brighter, too. Today's recipe for Almond Cheesecake Swirl Brownies is offered with all that in mind.
Julie Van Rosendaal created the recipe for these deep, fudgy brownies swirled with a creamy almond cheesecake filling for the Almond Board of California. They're wonderful as is anytime. For a more decadent dessert, bake the brownies in a 9-inch round cake pan and serve in wedges, topped with vanilla ice cream or frozen yogurt and a drizzle of hot fudge sauce. Julie Van Rosendaal has a wonderful cooking blog called Dinner with Julie. Everything looks amazing—definitely check it out!
Almond Cheesecake Swirl Brownies
Ingredients:
Almond Cheesecake Swirl:
Half an 8 oz. pkg. cream cheese (brick-style), at room temperature
1/3 cup sugar
1 large egg
Brownies:
8 oz. semisweet chocolate, chopped
1/2 cup butter, cut into pieces
1 1/4 cups sugar
4 large eggs
2 tsp vanilla
1/2 cup all-purpose flour
1/2 cup almond flour (make some) or more all-purpose flour
1/4 cup cocoa
1/4 tsp salt
Preparation:
Preheat the oven to 350º F and grease a 9×13-inch pan.
In a medium bowl, beat the cream cheese, almond butter, sugar and egg until well-blended and smooth.
In a small saucepan, melt the chocolate and butter over low heat. Stir until smooth and scrape into a large mixing bowl. Let cool for a few minutes.
When cooled, add the sugar, eggs and vanilla and blend well. Add the flour, cocoa and salt and stir just until combined. Spread the chocolate batter into a greased 9-x13-inch pan, then drop the almond butter mixture in large spoonfuls on top.
Draw a bamboo skewer or the tip of a knife through both batters, creating a swirled effect. Bake for 30-35 minutes, or until just set, with the sides starting to pull away from the pan. (An inserted toothpick will come out with lots of moist crumbs sticking to it.) Set the pan on a wire rack to cool before cutting into squares.
---
Maisie Jane's California Sunshine Products, Inc. was founded on strong beliefs and passion for offering unique, flavorful, top-quality, nut products. We strongly believe in earth-friendly practices that start on our family-owned and operated orchards. We use organic farming practices and continue in the process by using all-natural ingredients with no preservatives or GMOs. We believe in honest, friendly and helpful customer relations at all levels. We take pride in every task, every day, with every person.