Almond Butter Chocolate Chip Banana Bread
Posted on : July 23rd, 2019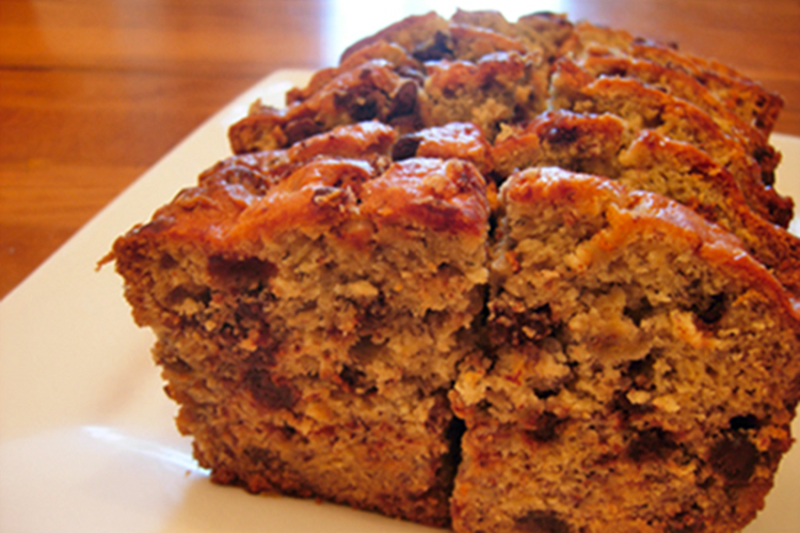 I have 2-3 over-ripe bananas in my kitchen right now. Don't we all? I swear that yesterday those bananas were just fine, but at this time of year they get ripe too fast for me to keep up with them. Now I know that on Hawaii people say bananas aren't worth eating until they look like mine. They're not "over-ripe", they're just right! But I'm not a big fan of them when they start to get quite spotty UNLESS I make them into banana bread. Then they're perfect!
Bananas go great with almond butter so that's a must. But then my friend Paul suggested chocolate chips. Chocolate chips? Who puts that in banana bread? He insisted so I looked on the internet. Apparently a lot of people do! So that's my plan for later today. Here's the recipe I plan to use. It features swirls of almond butter and that sounds really good. Add chocolate chips to taste. The recipe calls for 1/2 – 1 cup but Paul says "throw in the whole bag!" We'll see about that. (He can't be trusted with chocolate chips.) I was thinking about adding some chopped nuts although the recipe does not call for that. I'm sure this recipe could manage a little experimenting.
Almond Butter Chocolate Chip Banana Bread
Ingredients
1/3 cup maple syrup (I like the real thing!)
1/2 cup plain full-fat or greek yogurt
1 egg
2 teaspoons vanilla extract
3 overripe brown bananas, mashed (about 1 cup mashed)
1/4 cup brown sugar
1 1/2 cups all-purpose flour (or try whole wheat and white mixed)
1 1/2 teaspoons baking soda
1/2 teaspoon salt
1/2- 1 cup semi-sweet chocolate chips
Preparation
Preheat the oven to 350 degrees F. Grease a 9×5 inch loaf pan. (You could line it with parchment paper but I never do.) In a mixing bowl, combine the maple syrup, yogurt, egg, vanilla, banana, and sugar until well combined. Then beat in the flour, baking soda and salt until just combined.
Stir in the chocolate chips. Now take the almond butter and add it to the batter by the teaspoon and gently swirl it into the batter. Pour the batter into the prepared loaf pan and sprinkle with more chocolate chips if desired.
Place loaf pan on a baking sheet and put it in the oven. Bake for 50-60 minutes, or until center is set. If the top begins to brown, tent the bread with aluminum foil. Remove and let cool for at least 30 minutes before cutting. Bread will keep (covered) for 3-5 days.
---
Maisie Jane's California Sunshine Products, Inc. was founded on strong beliefs and passion for offering unique, flavorful, top-quality, nut products. We strongly believe in earth-friendly practices that start on our family-owned and operated orchards. We use organic farming practices and continue in the process by using all-natural ingredients with no preservatives or GMOs. We believe in honest, friendly and helpful customer relations at all levels. We take pride in every task, every day, with every person.